Auto Show Home Best in Show Show Visitors Exhibitors Registration
AMBLER AUTO SHOW
Sat. May 20th 1:00 PM-6:00 PM
The Ambler Auto Show is designed to be a fun, low-pressure event for auto and truck enthusiasts. Held each year at the beginning of the regional auto show season, Ambler gives the exhibitor a great opportunity to "tune-up" for upcoming shows. Vehicles are positioned along Butler Avenue in downtown Ambler. Visitors to the show have the opportunity to stop and chat with owners to learn more about each vehicle. Currently, we do not accept commercial vendors for sales, nor provide a swap meet area. Vehicles compete for awards in three areas: The Top 50, Major Sponsor Awards and the Al Whitcomb Best In Show Trophy.  Additionally, each entrant receives a commemorative dash plaque marking their participation in the show.
The Top 50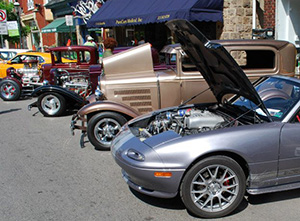 One of the unique aspects of the Ambler Auto Show is The Top 50. Awards are presented to owners whose vehicles earn votes in the Top 50 balloting. Voting for the vehicles is performed by entrants, who receive ballots in their registration packets when they check in that allows each registrant three votes for vehicles they judge to be exemplary. We count the ballots and the top 50  travel home with metal for the mantle place, plus bragging rights for the season! Deceptively simple, and deadly accurate…after all, who knows better than those who labor to provide the great vehicles we get to see!
---
Major Sponsor Awards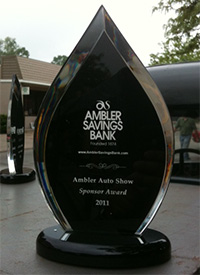 Each major sponsor is afforded the opportunity to select one vehicle they feel best represents a particular aspect of our hobby. Sponsors are free to create their own judging criteria. At times, sponsors have selected vehicles that characterize their business, such as a auto dealer choosing the best car of the brand they represent while another may choose the best antique, muscle or foreign car.
These awards are another unique aspect to Ambler's show. Entrants never know what the sponsors will be looking for, but one thing is certain. Each year, a few incredible vehicles are selected to receive one of these beautiful acrylic laser engraved awards. Each is a stunning addition to any collection.
---
Best-in-Show
We are proud to award the Al Whitcomb Memorial Trophy to the "Best in Show" vehicle. Named after our show's founder, this award exemplifies many of the values exhibited by the collection of trucks Al was so proud of. Our judges are our exhibitors! While it gets tougher each year to choose the best of the best, we're very proud of our past winners. Hey, you never know – your baby could be our featured vehicle in next year's show materials. So start cleaning and detailing and be sure to bring those exotic and unique vehicles to Ambler. You might be the next winner!