Auto Show Home Awards Best in Show Exhibitors Registration
AMBLER AUTO SHOW
Sat. May 20th 1:00 PM-6:00 PM
Get ready to see some of the finest cars and trucks the suburbs have to offer! You can expect to see all types of vehicles, from antiques to modern day marvels…muscle cars to classics, pure stock to wild customs, racers and drifters, the Ambler Auto Show has them all. You can stroll the avenue and stop to speak with the owners….Learn about what it took to get that car to the show. All the while, we'll play the greatest hits from the 1950's to today for your entertainment.
While you are strolling through town, be sure to visit Ambler's great merchants that are a part of the incredible rebirth Ambler enjoys today. Unique shops help make your shopping experience in Ambler a day worth remembering. Many will be offering specials on show day, so be sure to look for them and make your experience just that much better.
Whatever you do, don't miss the chance to grab a bite to eat at one of the many fine restaurants and pubs along Butler Avenue and the side streets. Ambler's eateries offer a wide fare of food and drink. Indian, Irish, Italian, American Bistro, Bar-B-Que its all here in Ambler, and be sure to let your server know you are enjoying the show!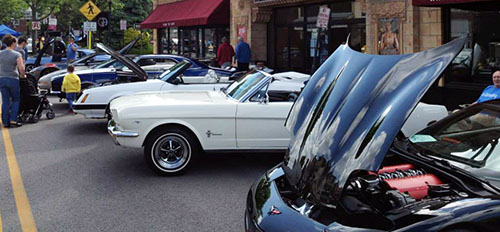 See our Auto Show Event & Parking Map for street closures and available visitor parking areas.
Please remember that each of the vehicles on display represent thousands of hours of preparation and are valuable investments for their owners. Never touch any vehicle unless an owner specifically permits you to do so. Try to keep a respectful distance and please watch out for anything that might scratch one of those "I can see myself" paint jobs. We want every vehicle to leave in exactly the same condition it arrived (with the exception of maybe a new trophy or two)! If you bring your pet, we ask you keep them away from the display vehicles. Please walk, don't ride any bicycles in the show area and absolutely no skateboarding during the show.
Interested in becoming a part of the automotive hobby? Check out some of the clubs whose members are exhibiting at the show. They will be glad to let you know about their meetings and how you can enter this wonderful hobby, even on a limited budget.
Also available this year will be several guest Food vendors: